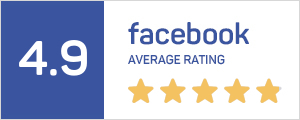 Details
---
The Vigor G8 has almost everything you need in free weight gym equipment. The G8 is one of a kind and the future of elite gym training. Never before has there been another piece of free weight gym equipment which can be used in as many ways as the Vigor G8 within the one piece of floor space.
ALL IN ONE GYM
Functional Trainer
Dip Station
Core Trainer
Equipment Storage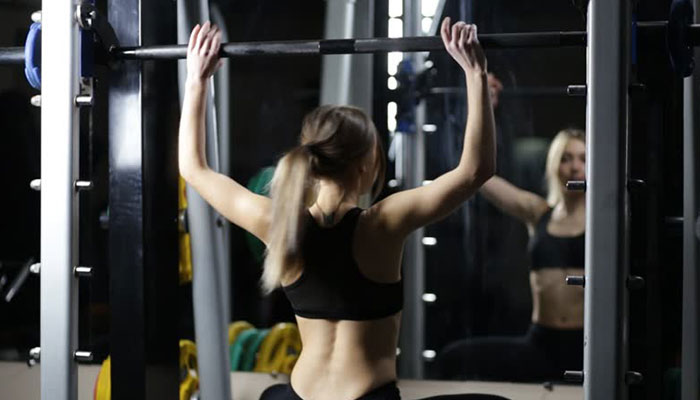 01 SMITH MACHINE FUNCTION
Go heavy on it without having to worry about safety, With the Dual safety smith hooks, now you can grind at the comfort of your own house.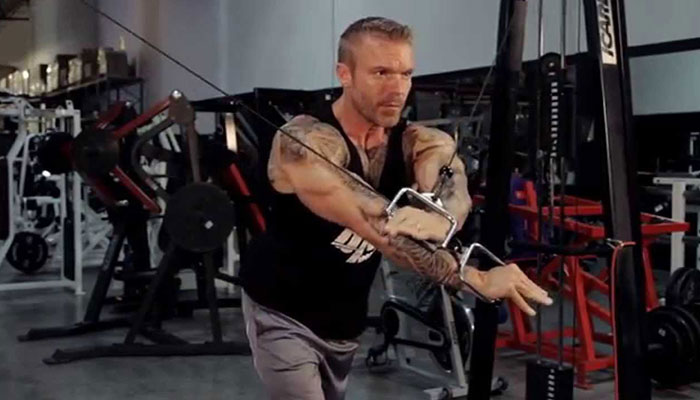 02 DUAL ADJUSTABLE PULLEY FUNCTION
Quick and easy pop pin functional adjustment, equipped with handle for 1 handed operation. Functional trainer weight holders are angled upward ergonomically and have removable sleeves to carry Standard or Olympic sized weight plates.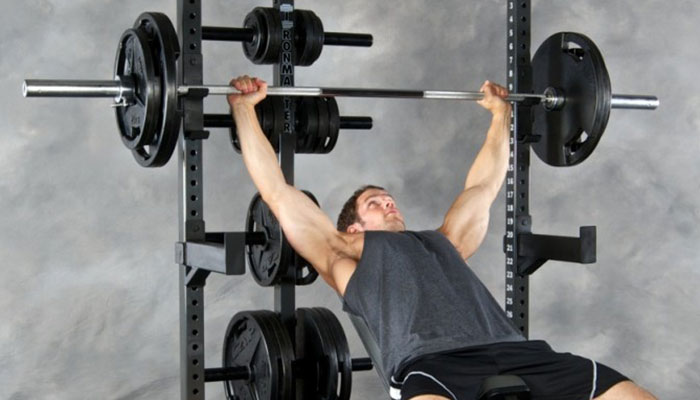 03 HALF RACK FUNCTION
Comes with 2 x J hooks and 2 x Safeties catches for use with Standard or Olympic barbell.
04 FOAM ROLLS
Use it for holding the body down when performing lat pulldown.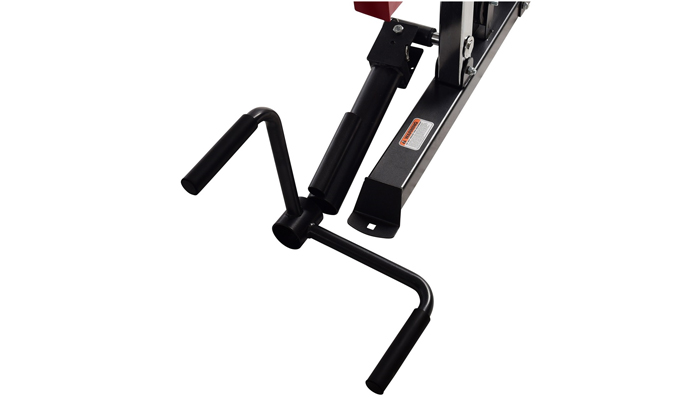 05 EXTREME CORE TRAINER ACCESSORY
Use with olympic bar for pressing or rotation exercises. Pair with T bar handle for rowing exercises. Can be removed with not in use.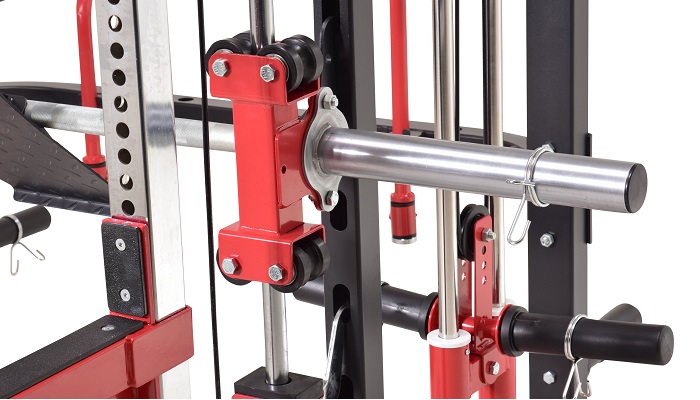 06 QUAD-GLIDE ROLLERS
The smith machine, powered by Quad-Glide rollers system, is ultra smooth, quiet and maintenance free, putting conventional bearing smith bar to shame.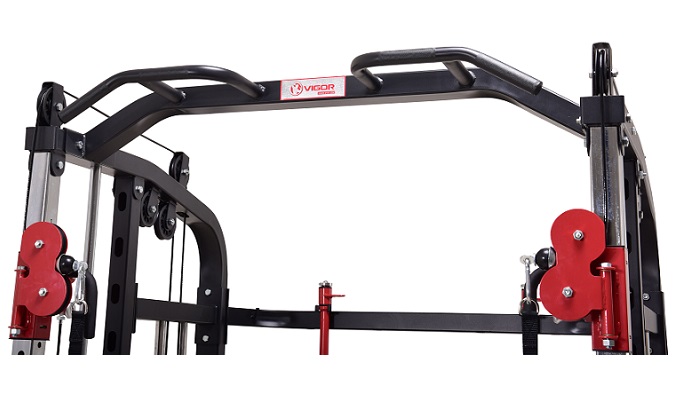 07 MULTI-GRIP CHIN UP BAR
Multiple grips to target different muscle group and add variaty to workout.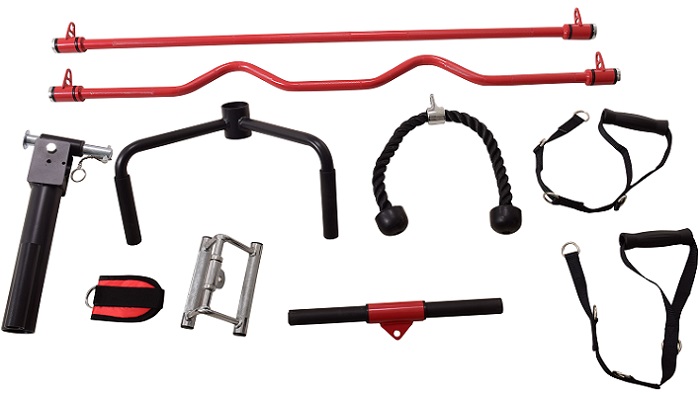 08 ACCESSORIES
Attachment accessories included such as curl bar, long straight bar, 2 x handle straps, tricep rope, triangle handle, straight bar and ankle strap. Storage holder on the G8 to keep your training space tidy.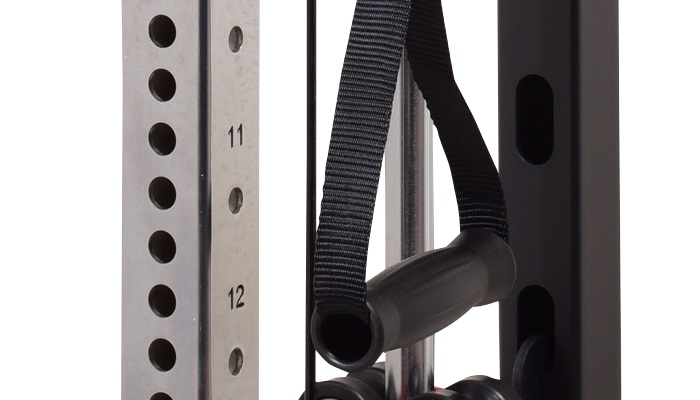 09 LASER ETCHED NUMBERING AND WESTSIDE SPACING
Achieve the perfect lift-off and safety position with its Laser-cut westside hole spacing. An incredibly useful feature for precise placement of J-Hooks and half rack spotter arm without impeding your range of motion.
10 LONG SPOTTER ARMS
Go heavy on it without having to worry about safety with the spotter arm of 42cm length which is longer than most other models in the market.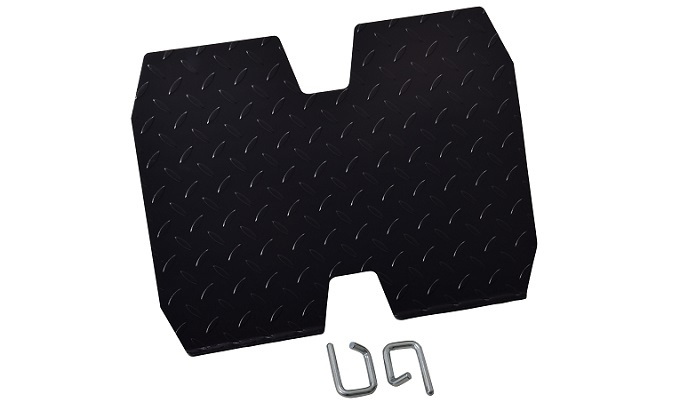 11 OPTIONAL LEG PRESS
Combine it with the optional leg press attachment, and you will have no more excuse to skip a leg day.
12 STORAGE HOLDER
6 x Weight plate storages with removable sleeve to accept either Standard or Olympic sized weight plates. 1 x barbell holder for standard and olympic barbell.
Product Specs
| | |
| --- | --- |
| Product Dimension | (WxLxH): 196 x 151 x 217cm |
| Warranty | Mainframe: Lifetime, Other parts: 1 year |
| Brand | Vigor |
Product Specs
| | |
| --- | --- |
| Product Dimension | (WxLxH): 196 x 151 x 217cm |
| Warranty | Mainframe: Lifetime, Other parts: 1 year |
| Brand | Vigor |
Questions on VIGOR G8 Functional Trainer, Power Rack, Smith Machine Combo
Realtime Estimation of Average Delivery Waiting Time --- 5 working days*
*Estimation based on last 7 days statistic
For small items, they will be sent within 5 working days using external courier: Ta-Q-Bin
Big items will be scheduled to be delivered within 7 working days. We will send SMS to confirm the delivery timing 1-2 days before delivery.
Free delivery applies for Orders above $150, otherwise delivery fees will be charged accordingly.
How to earn points?
1) For order under $150, every 1 dollar spent will earn you 1 point.
2) For order above $150, every 1 dollar spent will earn you 1 point for payment by Card / Paypal, but 2 points for Cash / Cheque / Bank payment.
3) Every new customer who sign up with us will earn 30 points immediately.
4) 80 extra points for writing a product review.
*Note: Points are not availale for some products.
How long does it take for the points to be credited to my account?
After the order is completed, which is within 3 working days after delivery.
How to check my available points?
You can check them under your account page.
How to redeem my points?
Every 50 points can be used to redeem 1 dollar discount. To redeem the points, simply add an item to your cart, and from your cart, you will be able to choose how much points you want to redeem.
Does the points expire?
Yes, they will expire after 3 years.
Are there any other uses for the points?
From time to time, we will have special promotion in which you will be able to utilitise your points better. For example, you will be able to exchange some points for 20-50% off a promotion item, or exchange a free delivery coupon code. These updates will be posted in our facebook page, so do like it to receive future updates :)
I did not receive any points after my order is complete. What should I do?
Points will be logged for registered users, thus most likely guest checkout is used. If an account is created after the order is placed, we can manually credit the points to the account, simply contact us via contactus@homegym.sg and we will rectify it for you. In this case, amount of points credited will be same as order total amount.
Which products do not earn point / Why are my points void?
There are a few cases in which the points will be voided:
1) Combo / Bundle products or orders which are pre-discounted.
2) Showroom discounted order.
3) Order placed without an account with us.
4) If extra freebies are given.
5) Payment by Installment Plan
* point system are subjected to change without notice
Frequently bought together
Customers who bought this product also commonly purchased the following combination of items.
This Item: VIGOR G8 Functional Trainer, Power Rack, Smith Machine Combo
3 customer reviews
Great combo for home gym

Kris September 04, 2018

By

I ordered this item last year and almost forgot to put down my reviews - was probably the first person to place this order and it's pretty good. I staff were quite friendly and loved the transaction + quality overall (I had it assembled on my terrace with a roof cover and it's still standing strong, limited/negligible rusting)

Awesome

Hirwankamal February 25, 2018

By

Very smooth ordering transaction and fast delivery.
Items was awesome. Good packaging with a quality materials. Able to complete to fixed up everything within 5 hrs by myself alone. Recommend to everyone out there who love to workout at home at the convenient of your own time. Buy items from homegym.

Great functions

Gary December 01, 2017

By

Stable and good quality machine that let me do full body workout. My wife sometimes uses the cables too. Overall, good experience with the homegym team.
Available in Showroom
View this product in our showroom
© 2019 HOMEGYM.MY. All Rights Reserved.